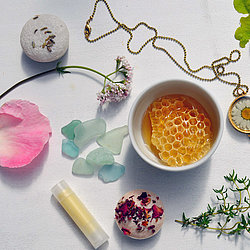 Lovely Greens produces beautiful bath and beauty products made with natural wholesome ingredients including rich oils, fragrant botanicals, and essential oils. As a producer my philosophy is simple – pure and natural personal care products that are great for your skin and the environment. Handmade on the Isle of Man, I use local ingredients including herbs and flowers and even honey and beeswax from my own hives of honeybees.
Lovely Greens products include natural handmade soaps, moisturising body balms, soy wax candles, aromatherapy bath salts, bath truffles, and gorgeously presented gift sets. Have a browse through my offerings and if you have any questions or comments please feel free to get in touch.
Tanya from Lovely Greens.