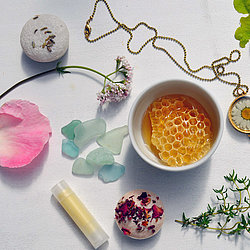 Handmade and natural bath and beauty products from the Isle of Man.
As a producer my philosophy is simple – pure and natural personal care products that are kind to your skin and the environment. I use wholesome ingredients including herbs and flowers and honey and beeswax from my own hives of honeybees.
My range includes natural cold-process soaps, moisturising body balms, creamy lip balms, soy wax candles, aromatherapy bath salts, bath truffles, and beautifully presented gift sets.
If you have any questions or feedback I'm always happy to take your messages.
All the very best! Tanya from Lovely Greens.