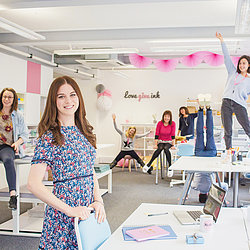 Hello from Love Give Ink! We make printed gifts of love and inventive stationery that delight.
That me Martha Keith there in the picture and some of our amazing team. I founded Love Give Ink in 2013 inspired by gifts that my husband (Mr LGI) and I had given each other - including a treasure hunt when he proposed and a box of 'reasons why I love you' on our first wedding anniversary - with the intention to create paper-based goods filled with love and personality.
Since then we've outgrown my spare bedroom, and now have a lovely HQ of our own in West London. Here we create our range of products, which includes our notebook and diary range, our signature Boxes of Love, Secret Message greeting cards, and our foiled message tokens.
We have been featured in local and national media including The Sunday Times, The Telegraph, The Independent, Stylist and Wedding Ideas Magazine.
Hounslow Entrepreneur of the Year, Best New Business, and Business of the Year 2016.
One of the 'Small Biz 100' for Small Business Saturday 2015.
Winner of the notonthehighstreet.com 'Start-Up Success of the Year Award' 2015.