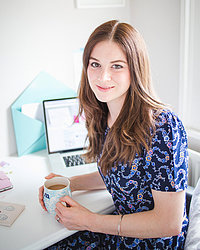 Hello from Love Give Ink! We make printed gifts of love that are a delight to give and receive.
We launched at the end of 2013 when I, Martha Keith, left a career in healthcare to follow my passion for creative ways to say 'I love you'. Inspired by gifts that Mr LGI and I have given each other, including a treasure hunt when he proposed and a box of 'reasons why I love you' on our first wedding anniversary, we decided to create delightful ways to help others show they care.
All Love Give ink designs are created by our team, mostly from hand-drawn and painted artwork, which are then turned into our lovely products using high quality materials, printing and finishing here at 'Paint HQ' in Chiswick, West London.
Our range of products includes our signature Boxes of Love range (reasons why I love you), our Secret Message greeting cards, inventive stationery and creative wedding styling ideas. All are designed to help you bring thought and imagination to special occasions.
We love doing what we do and want you to enjoy choosing and giving our lovely products just as much as we enjoy making them, so please do let us know your feedback. We hope you enjoy browsing our product range and we inspire you to say 'I love you' in a creative way to someone in your life.
One of the 'Small Biz 100' for Small Business Saturday 2015.
Winner of the notonthehighstreet.com 'Start-Up Success of the Year Award' 2015.