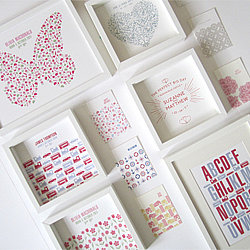 Lovat Press is a print studio in Glasgow specialising in pretty wedding stationery.
Lovat Press has always had a passion for pretty papery loveliness. There is nothing quite as nice, as receiving a well chosen card or gift for the receipient that they can actually hold, in a world where the internet is the main point of communication. Lovat Press are going back to traditional methods of designing and producing its goods, and using well sourced material to compliment its designs.
Lovat Press designs are all lovingly created from hand drawn illustrations and printed onto the finest 100% cotton card which feels as beautiful as it looks.
Also in the Lovat Press collectionis personalised gifts for children and new babies as well as gifts for weddings and anniversaries, as well as a collection of Letterpress cards produced in the UK.