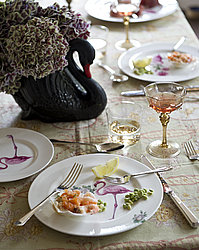 Renowned for producing 'some of the most intriguing eco-chic artworks around today,' Rota's one-of-a-kind recycled furniture art and decorative vintage plates quickly attained cult status.To meet demand, Rota created a modern classic of English fine bone china with a chic twist.
Everyday is a collection of English fine bone china thoughtfully handcrafted, shaped and streamlined to perform as beautifully as it looks, serve various uses to suit your lifestyle, and economise on cupboard space and clearing up. Each piece has the very feel of heritage. Sleek in hand. Silken to touch. Elegantly lightweight yet durable. Eye-popping imagery of Victorian-inspired flora and quixotic fauna create animated conversation, whether showcased a la carte, as a set, or mix matched with other stunning Lou Rota patterns.
Considered the best of British ceramics, fine bone china can only be created through a series of precise steps by skilled masters using specialised machinery. The result is elegantly lightweight, smooth and slender for sophisticated presentation, yet durable for everyday use. In the hands of artisan Lou Rota, fine bone china becomes treasured tableware that pleasures the senses.
Our company brings British legacy to modern life. Provenance is an integral part of Lou Rota collections. Each piece is meticulously crafted in Stoke-on-Trent in Staffordshire, a region known as 'the Potteries' due to a vibrant industry dating back to the 17th century. Yesteryear's premium quality remains today through our passion for the fine art of kiln-fired ceramics for the enjoyment of generations to come. From our historic roots to discerning homes around the world.