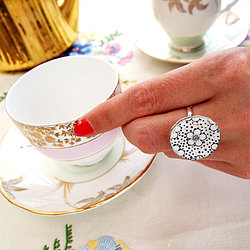 bags, purses, jewellery, printed textiles and spout hooks are all designed and made in scotland by tea set lover louise.
louise makes a range of products that are beautiful and unusual. she uses items that you wouldn't expect to see on fashion accessories, like the sweetie purse range that has an antique mustard spoon attached to the front! louise finds interesting and wonderful everyday objects and uses them to adorn and inspire fashion accessories.
louise set up her business in 2006 when she moved to london and started making all things tea related. bags and purses are made from recycled leather using local processes and techniques, this leads to highly individual and unique products that you know you wont find on the high street.
in 2011 louise moved back up to her native scotland to set-up her workshop there, work continues as usual but the view from the window has vastly improved.