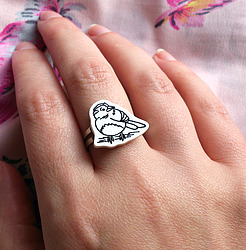 Lottie & Gil brings you a range of hand-crafted products based on original illustrations and sketches by designer Rebecca Lay. Using techniques including screen printing, sewing, drawing and silversmithing, Lottie & Gil offers a collection featuring a variety of products and materials.
We try to preserve as much of the handmade process as possible. Each piece of illustrated jewellery is individually hand-drawn, giving you a unique piece of artwork that you can enjoy wearing every day.
Inspired by the world and its many shiny things, all of our products are made in our home studio in Manchester, fuelled by many cups of tea and orange kitkats.