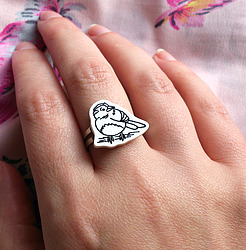 Lottie & Gil brings you a range of lovingly hand-crafted products based on original illustrations and designs by Rebecca Lay.
I really value hand crafted products and am passionate about preserving as much of the handmade process as possible when I am at work in my studio.
Each piece of illustrated jewellery is individually hand-drawn, which means you are purchasing a unique piece of artwork that you can enjoy wearing every day. I also hand craft my sterling silver earrings from sheet sterling silver.
Inspired by the world and its many shiny things, all Lottie & Gil products are produced in my home studio in Manchester, fuelled by many cups of tea and orange kitkats.