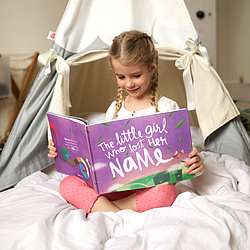 We are three dads (David, Pedro and Asi) and an uncle (Tal), who started this as a DIY project. It beats putting up wonky shelves...
We came up with the story of a child who had lost his or her name. Off the child goes, on a splendid adventure, to track down all the letters of the lost name. On the way, this child meets lots of different creatures, who all lend a hand; nice creatures, strange creatures as well as on-the-face-of-it scary creatures. We wanted to show that with a bit of courage, and some chutzpah, there's nothing to be afraid of and anything is possible!
Our aim was to take the idea of a personalised book, and do it better than ever before. We hope that you agree.