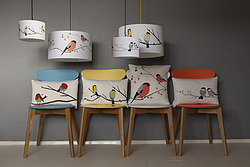 Hello and welcome to Lorna Syson which was set up by Lorna in 2009 with help from the Princes Trust. Lorna now works from her London studio with a fantastic view over Greenwich and sends her work to customers worldwide.
The designs are all based on the British countryside, as you browse the shop you will recognise the British Song Birds, which never fail to make people smile. You can also follow the journey of how each design was inspired, for example how trips to the coast influenced the Land's End lampshades, and learn how Lorna created the Bradbury and Warwick designs by looking at the negative spaces found in the countryside.
Lorna's quirky, modern and fun style comes across in her cushions and lampshades, and all of the collections are carefully designed to mix and match. The Juneberry and bird cushion matches the Bradbury Elderberry lampshade so feel free to be adventurous!
Lorna says 'I love seeing peoples' faces when they see the work for the first time. There is always a smile on their face and I hear stories about how that bird visits their garden or how when they used to visit their grandad he used to talk to the birds!'
Enjoy!