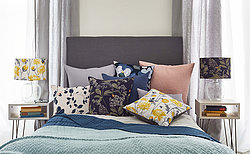 Lorna Syson's unique designs simultaneously spark nostalgia and represent a simplified beauty of the British outdoors.
Inspired by her own childhood memories from Warwickshire where she grew up to Cornwall and Devon where many family holidays were spent. Memories such as blackberry picking amongst hedgerows, and New Years day walks between Land's end and Sennen Cove, Lorna presents us with extraordinary designs inspired by the everyday.
Camera in hand, she captures fleeting moments like bees collecting nectar and birds foraging for seeds. These memories form the illustrations and patterns drawn by hand and on the computer, created in Lorna's silhouetted style, using carefully chosen colour palettes. With an emphasis on quality and integrity Lorna is proud to work with British manufactures across the UK and from Lancashire to Kent we work directly with skilled craftspeople to produce our high quality products.
The designs transport the viewer to witness the world through Lorna's lense and invites them to find the beauty overlooked in their everyday life.