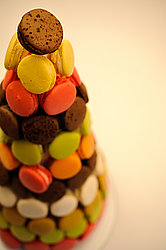 After meeting up in a famous London west end hotel, chef Daniel Garcia and Elias Dayub discover a common passion for fine desserts, which took them in this fantastic journey to create an incredible range of handmade patisserie. With an experience of over 8 years in the food business, L'orchidee was created.
At L'orchidee we are passionate about delivering quality over the highest expectation. Respecting all the process of maduration and temperature control of our finished product, you could not only experience an exquisite flavour but also a passion that only skilful hands could reach.Therefore we offer you an amazing range of our highly fashionable but yet very classic french Macarons and truffle lollies which by their simplicity, elegance and delicacy will make the perfect gift for every occasion.
Our macarons and lollies are daily hand made using only the finest ingredients we could get our hands on, from Organic british strawberries, Venezuelan chocolate, Bourbon vanilla and the greenest pistachios we could get on season.
We don't use any additives, preservatives, gluten, wheat or gelatine in our macarons or lollipops, therefore we recommend to enjoy them within three days.
We are also pleased to now offer a wide range of Macarons and Macaron towers as well as truffle lollies by Consultation for weddings, christenings and other special occasions, please do not hesitate to contact us for more information.