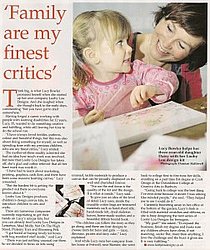 Welcome to Looby Lou's craft products designed to encourage children's creativity.
I want to give children the confidence to explore and find their own "making" idea whist being introduced to a range of the loveliest fabrics, hand dyed silk ribbons and the most interesting embellishments I can find so I have designed a range of Craft kits, Sticth kits, Haberdashery and Party Craft Kits to inspire you all!
The kit's packaging is cherished and perfect for personalising, I have also written and illustrated story line instructions or poems within the kits to encourage learning of expression, visualisation, reading and writing skills.
I believe that good quality craft and design can be enjoyed by all ages and we encourage little ones from as young as three to have a go.
I really hope you enjoy your making and dont forget to proudly display your work ……………. stand back and admire alot!!!
Here at Looby Lou we really want your little ones Looby Lou experience to be magical from the moment they receive their gift so we offer super duper gift wrapping with our compliments.
Remember to have fun with your kits and make the designs your own. Afterall, thats what making is all about.
Love Looby Lou x