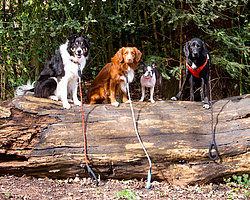 Dogs, dogs, and more dogs.
You guessed it - dogs are our thing. We just love them, and that is why we decided to specialise in things for dogs that we like. You'll find a range of accessories that make the time you spend with your dog more fun for both you and your pet. So if you're looking for a new collar or leash, or even a toy for the park, we've got something for you.
All of our products are unique and practical. Our range includes a stainless steel water bottle that releases water as your dog licks, a beautiful collection of collars and leads, handmade by Hennessy & Sons. To keep your pets safe and tick free, we have a tick and flea repellent that does not use any chemicals. We have the brilliant Treat Toob, which lets you carry peanut butter or other pureed treats with you. And don't forget we also have the Pick Pocket Pouch - a mini backpack for your lead.
If you're looking for a gift for a dog owner, contact us and we'll help you choose something.
Have a pawfect day.