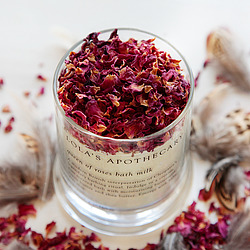 Lola & Dominic run Lola's Apothecary on a picturesque farm in Devon, one of the most rural regions in Britain. Together we created a range of beauty wonders that marries effective natural skincare with fine fragrance and adds glamour to any bathroom.
Each product is complemented by a gorgeous scent of pure essential oils, blended with aromatherapeutic benefits and sensory pleasure in mind. Using only naturally active and responsibly sourced ingredients, everything is lovingly handmade in the farm kitchen, in between cooking, tending to the vegetable garden, and lashings of clotted cream.
At the heart of our philosophy is a vision of beauty and grace, and a belief in wellness. We hope that our products will become part of your daily self-care ritual that not only blesses you with beautiful skin, but also nurtures you in a momentary retreat from the vivid dance of life.
From Devon With Love,
Lola & Dominic x