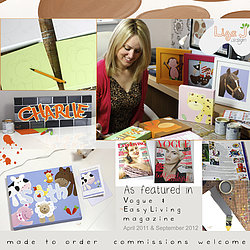 From wall murals to hand painted canvases...
The story of Liza J design began after Norfolk born artist Liza Cole painted the 'giraffe on orange' canvas which became the very first collection titled 'Jungle Original'. Take a step back a few years, Liza always had a passion for art proudly acheiving an A* in the subject and then graduating from part of the University of East Anglia with a 2:1 BA (hons) Interior and Spatial Design with Business Management degree. Liza loves mural design; bespoke artwork direct on interior walls to complement existing fabrics and decor and when it came to designing her own nursery Liza was able to create a unique large feature wall mural; giving inspiration to create canvases designed for the nursery, playroom and child's bedroom interior. The canvases are beautifully hand painted using emulsion, the medium derived from painting murals onto walls offering a soft matt finish that easily complements your decor.
.
Late 2007 Liza J design was honoured to be invited to join notonthehighstreet.com. After a successful broad range of designs in the original art collection; magazine features in Vogue and Easy Living and recognition by Theo Paphitis and Jacqueline Gold, Liza J design introduced new product ranges of gorgeous and brightly coloured children's prints and gift cards.
All works designed by Liza Cole are original and hand painted (or reproduced as fine art prints and cards from original hand painted works of art) and lovingly produced in a studio within Suffolk in the UK.
© Copyright Liza J design 2007 All designs remain the property of Liza J design and may not be reproduced or copied in any format, without the originators (Liza Cole's) permission.
Commissions are very welcome.