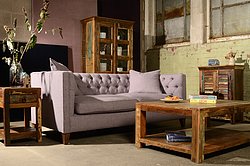 Little Tree Furniture is a family run company set up by Neil Buckley-Jensen who found a passion for handmade hardwood furniture a few years ago when he designed some furniture whilst on a holiday in India.
He found some carpenters, had the furniture made and shipped it home. Friends that visited his home liked the furniture so much that they wanted some, then their friends wanted some and so the business was formed!
We specialise in handmade, hardwood quality furniture. No veneers or imitation woods are ever used; just natural solid wood.
Wherever we can, we use reclaimed wood which can be over 150 years old which fits with our principles of 'wood working with a conscience', these principles apply to the materials we use and the peoples' lives that the we come into contact with both at home and overseas.