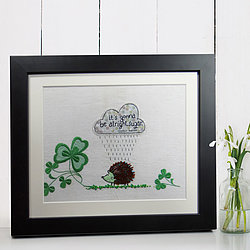 Welcome!
I'm Lucy McLaven, textile artist, embroiderer, illustrator, collector of vintage fabrics and embroideries, and you've found my shop, Little Singing Bird!
I love vintage embroidered fabrics, and as my collection grew and grew, so did the seed of an idea to combine my vintage treasures with my role as a textile artist and illustrator, and I have created these unique, one-off pieces.....and I hope you will love them as much as I love designing and creating them. I also have a range that can be personalised using carefully selected, lovely 'not vintage' fabrics, so take your pick!
I use a combination of hand embroidery, beading, machine embroidery ('drawing' with a sewing machine), and applique to create my original textile illustrations, then the finished artwork is ready to find a new home, up-cycling at its best!
Thank you for visiting, please keep looking as each picture is truly unique, and new ones added on a very regular basis.
Best wishes,
Lucy.
PS. These are exclusive to Not On The High Street ......you really can't buy them anywhere else!