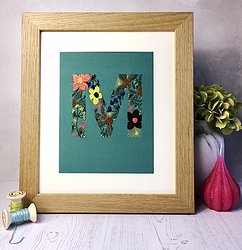 Welcome, and thank you for visiting Little Singing Bird.
My name is Lucy McLaven, I'm a textile artist, and have been embroidering for as long as I can remember. I have a degree in fashion and textiles, specialising in embroidery, and have worked as an illustrator and wedding dress embroiderer amongst other things, but am now delighted to be working full time creating textile art.
I use a combination of hand embroidery, beading, machine embroidery ('drawing' with a sewing machine), appliqué, and also like to sometimes incorporate vintage embroidery into my work to create my original textile illustrations. Many of my pieces can be personalised, and make wonderful, unique gifts for birthdays, weddings, anniversaries....or just because, whatever the occasion, they will be cherished.
Thank you for visiting, I hope you like what you see, and will come back soon as I strive to add new and exciting work on a regular basis.
Best wishes,
Lucy.
PS. These are exclusive to Not On The High Street ......you really can't buy them anywhere else!