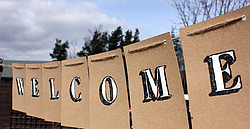 Hello!
I'm Karen, a self-taught designer and maker. In early 2012 I re-launched my 'Little Silverleaf' hand-crafted stationery business with a renewed focus on individuality, creativity and quality, and I now produce a growing range of original paper goods, including greetings cards, notebooks, bunting, and more. All my Little Silverleaf stationery items feature my own designs. I enjoy creatively interpreting traditional greeting card messages, and am also influenced by pop culture and everyday encounters.
With Little Silverleaf, I make the cards I'd love to receive, and the stationery I'd love to own. Each item is handmade by me, right here in Scotland. I prefer to work with recycled card and paper wherever possible, and my work chiefly features my own illustrated embellishments, and hand-painted designs and lettering.
Due to the nature of hand-crafted products, every item I produce will always be slightly different to the last. I love this fact! I enjoy creating each and every product, be it a standard notebook or a custom request with personalisation, and I love that in a display full of Little Silverleaf products, every single one is unique.
Thanks for stopping by!