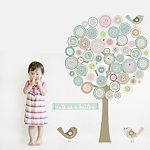 Hello and welcome to Littleprints! At Littleprints we pride ourselves in offering beautiful, contemporary wall art of premium quality.
Littleprints was created in 2013 by husband and wife team Jo and Adrian Gillitt. Inspired by our 3 wonderful children and a passion for interior design Littleprints was founded, with an aim to help you create beautiful children's bedrooms which are as creative and fun as your children.
Our vast range offers premium fabric stickers and our range will continue to grow.
We also offer customised stickers which allow you to choose the colour, text font and name, for an individual, unique touch to a room.