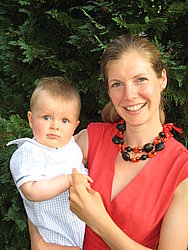 It all started in the deep, magical forests of Småland, Sweden where Nick & Nymf' designs take their origin. Designer Momo soon asked her daughter Nora to join and now the mother-daughter run business is establishing itself in Sweden, Germany and the UK.
Nick & Nymf design and create baby clothing inspired by Scandinavian tradition and design with a modern twist. The aim is to provide the discerning parent an alternative to find simple, yet special and exclusive designs for their little ones aged 0-2 years. Many of the outfits have been worn at special occasions such as birthdays, christenings and weddings.
Excellent quality, high customer service and sustainability are all close to our heart. Being a small family business we believe we can offer our customers a really enjoyable shopping and wearing experience by looking after them from a to z. With every garment being lovingly sewn and quality-checked by ourselves, we ensure the product reaches you as we wish it to do. We look forward to helping you find your own favourite Nick & Nymf outfit!