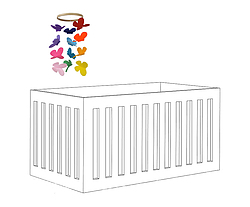 Hello!
I'm Charmaine. I launched littlenestbox in 2011, as a result of searching for (but failing to find) a modern, colourful and playful baby mobile.
I am a stay-at-home Mummy as well as a small business owner. I design and make littlenestbox products in my home studio. I focus on colour and movement and create mobiles that will capture your little ones attention!
Every mobile will move with the slightest breeze, so they will send your little one happily off to sleep. I have also found that they work brilliantly as a distraction during nappy changes!
Many littlenestbox designs can be personalised with your choice of colours ensuring that they will also coordinate perfectly with your decor! If you don't see exactly what you're looking for, please send me a message and I'll try to create something special just for you!
The littlenestbox collection has now expanded to also offer a selection of colourful handmade garlands, which complement our mobiles and help to create that lovely, cohesive nursery look.
littlenestbox has been featured on Design Love Fest, Apartment Therapy, Design for Mini Kind, The Shopping Mama, Frankie, Ideal Home and Homes & Gardens. You can also find us on social media by searching for 'littlenestbox'.
Charmaine x