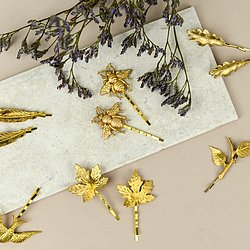 Handmade jewellery and other loveliness.
From humble beginnings Little Nell started out back in 2010. Having made her own jewellery for a couple of years, Penny Amey decided to start selling her creations on her own little corner of the internet. Little Nell's current collection features earrings, necklaces, bracelets and ethereal hair wear, all handmade in her modest Bristol-based studio.
Taking inspiration from the natural world, Little Nell's designs are pure boho-elegance. Delicate pieces with personality sit at the heart of the range featuring feathers, leaves, crystals and the night sky adorning the wide selection of jewellery.
All assembled by hand, Little Nell jewellery is that little bit different from the norm with the pretty yet stylish designs standing out from the crowd. Many pieces are made to order using vintage findings so stock is limited, and they may not hang around forever! If you see something you'd like but would prefer a different chain length, or an extra fitting, just get in touch and we'll do our best to help.