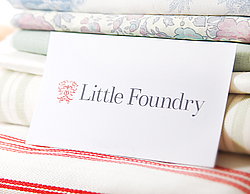 Little Foundry began in 2009, creating personalised gifts for family and friends. Seven years on, we have a fully established studio, creating bestselling personalised artwork for new babies, birthdays, weddings and interiors.
Using fine woven fabrics, antique letterpress and embellishments, we create each piece of artwork. Every item is handmade to order from start to finish.
Our framed items will arrive complete in a white wooden box frame that sets off each piece beautifully, and are locally sourced, as we believe in supporting little businesses like ours.
We pride ourselves on attention to detail, great customer service, and a love of colour. We are continually inspired by new trends as well as drawing on the past, so you'll always find new products popping up in our range!
Ultimately we are passionate about creating beautiful gifts that are carefully made, and hope that you like our products as much as we enjoy making them.