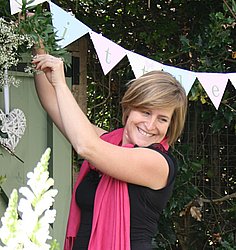 Hello, my name is Hannah and I have been running Little Fish Events for around ten years. Initially I only designed wedding stationery, but I am really excited about my range of children's party invitations and personalised note cards. I hope you enjoy my designs as much as I have enjoyed creating them.
I take inspiration from my three young children who are (most of the time...) the dearest little people who keep me grounded and young. Zac, Daisy and Noah love simple shapes, bold colours and pretty details, and so do I.
Everything you see is designed, printed, made and embelished by me. So, from Christmas stationery to wedding invitations you can be assured that each design is hand made with love. I may be a little fish in a big pond, but I believe that's what makes my products special!
Happy shopping, Hannah x