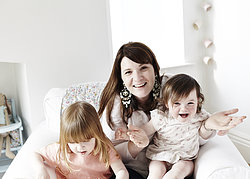 Little Cloud founder Claire was born in France and first started to sew at the tiny age of 5 on her Grandmother's antique Singer sewing machine. Here began a lifelong love of fabric and thread and an aspiration to carefully create beautiful things for beautiful little people; long lasting pieces for nurseries that will stand the test of time.
Claire now lives in rainy Manchester and has an amazing team working behind the scenes (that's us, and yes we're biased about how amazing we are). We ensure that every product made is just as special as the original concept she dreamt up in those evenings, now seemingly long ago, when she'd tuck her own little ones into bed and set to work on her sewing machine.
It's the special moments in life, those treasured precious memories that stay with you for years to come, which are the inspiration for everything we do. We love that behind every product we make there is a little girl or boy, and that our pieces will put a smile on their faces and be with them through those precious first few years (and beyond).
Our core Little Cloud pieces remain true to Claire's original concept, combining classic Liberty prints with modern design. Everything is still handmade, although we now have some lovely helpers scattered across the UK (and even a few in France). Each item is still designed, personalised and packaged by hand in our Manchester studio. Excitingly, as the business has grown, we've been able to expand and develop our creative energies which has resulted in amazing collaborations with other brands such as the fabulous Cassie Loizeaux, Fable Heart & Little Cube.
As with all things containing a little magic our story has grown from a small bean of an idea and we can't to see where our journey takes us next.