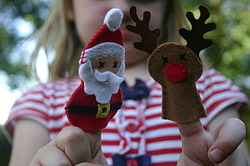 I love to sew. Even more than that, I love to teach people to sew or at the very least help them along the way!
I have designed a range of craft kits with the aim of getting people making something fun and perhaps learning something along the way. The kits are desinged to appeal to adults and older children (ages 8 and over)
Each craft kit contains everything you need to get started straight away. Well, everything other than a sharp pair of scissors and a spare moment on the sofa. These kits are a perfect gift idea and the are fantastic way of keeping someone occupied in a lovely and creative way
I'm Victoria Peat and I founded Little Black Duck in 2006. Over the years I have studied at the London College of Fashion and have spent many an hour since sewing and creating toys and clothes for my family. Did I mention that I love to sew? It's in my bones.