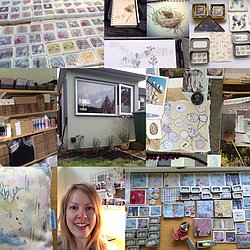 Littlebirdy designs began in 2009 when surface pattern designer Lindsay Atkinson set up a small label selling bird themed special occasion cards on completion of her masters degree. This small venture has since expanded into a full time career allowing Lindsay to do what she loves best, everyday, and for that she is eternally grateful to each and everyone of her customers. Littlebirdy designs now consists of a growing product range of decorative home ware pieces designed to add moments of magic around your home; including the collectable wall art series, cute marble magnet sets and pretty patterned cushions.
Lindsay begins each design with hand drawn sketches and watercolours of her garden bird visitors and things she has collected on nature walks, like seed heads, feathers, and birds' eggs. These are scanned onto the computer and layered with botanical shapes drawn with her wacom graphics tablet or taken from her own photographs to add pattern and depth to her unique style of illustration.
Inspiration is drawn from woodland walks and her cottage garden complete with vegetable beds, wild flowers and pond with resident frogs and newts. A pretty wildlife haven for various feathered visitors who make regular appearances in her work.
Every littlebirdy product is designed, made and packaged by Lindsay in her little Victorian terrace in Beverley within chiming distance of the Minster bells, but only once she has begun each day with a lightly poached egg and a cup of Yorkshire tea (a perk of being self employed!)
Excitingly, Lindsay now has a newly built garden studio (shedio) with reclaimed doors and windows so she can be even closer to her source of inspiration!
Postage is free for any order over £30 (UK mainland)