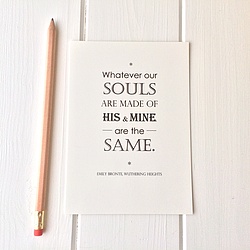 Hello, my name is Rio and I'm the designer-maker behind Literary Emporium. Located in the creative town of Frome, in Somerset, Literary Emporium is a giftware brand that specialises in handmade jewellery, stationery and gifts inspired by great works of literature.
Literary Emporium was created after I completed my English degree and was a result of my love of classic literature and beautiful books. The range started with a single postcard featuring a famous quote from Wuthering Heights, in homage to my dissertation subject. My interest in crafts then led me to create handmade necklaces with a literary twist. I was lucky that other people seem to like literature as much as me and started to buy my jewellery and postcards.
Literary Emporium products are now sold in a number of stockists such as The National Portrait Gallery, Oxford University's Bodleian Libraries' shop and Keats' House, London. I am always working on new designs and looking to my bookcase for inspiration to create new products.
I run every aspect of Literary Emporium including, designing, making and packaging all the order and if there's anything I can help with please do get in touch.
I hope you like my literary items as much as I like designing and making them. Thank you so much for visiting my shop.