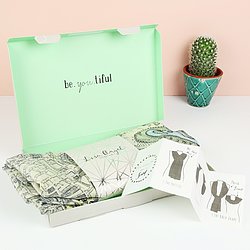 Lisa Angel is an accessories, homeware, and gifts boutique based in Norwich, Norfolk. We adore all things beautiful and we strive to give our customers only the best in products and service.
From our sparkling jewellery to our gorgeous scarves, and our kitsch gifts to our fabulous home accessories, we have a range full of fabulous treats that we're certain you'll love.
Our monthly scarf subscription sends one of our exclusive Lisa Angel designed scarves straight to your doorstep every month, packed neatly in our own pretty packaging and with a 'six ways to tie a scarf' guide included. Which scarf is sent to you each month will be up to us, so you won't need to worry about choosing from our vast selection! We want to leave you with that wonderful element of surprise each month when you go to open your package...
We pride ourselves on our customer service and will endevour to make your shopping experience as hassle free as possible, with a no quibble 28 day return policy and a 2 year guarantee on all of our handmade jewellery.