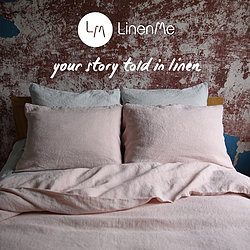 About LinenMe
My name is Inga. I'm interior designer with strong passion for home textiles, especially linen. I believe that pure linen has some magic power to create special atmosphere at home and fill our daily life with beautiful moments.
All my designed items are produced by a small my family owned company in Lithuania - the country which has very old traditions of growing flax, weaving the highest quality linen fabric and having true masters of hand hemstitching and embroidering.
Your story told in linen
Since very old times linen fabrics and products have been passed from one generation to another. They are not only natural, healthy to use and carry, but also strong and durable. Therefore, women passed woven linen as a dowry for future generations to preserve family history.
LinenMe is continuing the tradition - now you can design your own linen treat, so that your own story would be told for generations of the future.
I have more than 300 colours of linen fabric in stock. Please drop me a note if you need customized item or monograming service.