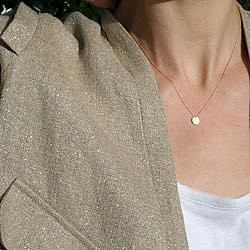 Based in Surrey, Lindsay completed a BA (Hons) in Metalwork & Jewellery Design at Buckinghamshire University after discovering her love of making jewellery at art college. On completion, Lindsay studied MA in Jewellery at Central Saint Martins College of Art & Design where she fell in love with the simplicity and beauty of hand crafted jewellery and traditional techniques.
The resulting collections reflect Lindsay's vision of decorative jewellery to be beautiful, timeless and treasured. Made to wear everyday as core pieces, they look great layered up with seasonal trends but even better worn alone for simple luxury.
All the work is hand crafted by Lindsay while specialist techniques such as hand engraving and complex pave stone setting are done by highly trained UK based master craftsmen and women.