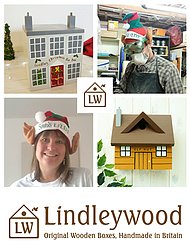 Lindleywood was created by us, Simon and Helen Lindley, a husband and wife team who've been together for over 28 years. We actually met at school!
Our passion is to design, handcraft and handpaint unique wooden boxes from our workshop in Lincolnshire.
There are eye-catching bird boxes, distinctive keepsake boxes, beautiful butterfly houses, and some of the most unusual wedding post boxes you can buy. Quirkily original designs on a classic idea - you could say that we think outside the box when we make our painted wooden boxes!
Everything we create is proudly Made In Britain by the two of us and we use only British suppliers for our raw materials.
Customers have described our boxes as being "like art in bird box form", "beautiful and very well-made", "reassuringly good quality construction", and "clever design and wonderful artwork".
Every product is handmade from high-grade sustainable pine by Simon is his workshop and then handpainted with non-toxic wood paints by Helen in her studio.
We're proud that our products have been seen in various national magazines and newspapers and were also excited to be featured in National TV programmes such as Love Your Garden and The Alan Titchmarsh Show.
We absolutely love what we do and take pride in the sturdiness and originality of our boxes.
Lindleywood was chosen by Theo Paphitis (of Dragon's Den fame) as one of his Small Business Sunday (#SBS) winners and Helen has been one of Jaqueline Gold's WOW (Women on Wednesday winners too.
Helen was honoured to win the covetted Community Ambassador Award as part of the Not on the High Street Make Awards. She is also the current Not on the High Street Partner Ambassador for the East.
Whether you want an usual gift for a loved one, something eye-catching to style your wedding day, or a beautifully made item for the home and garden, please see our product range.
We hope you love owning them as much as we love making them!