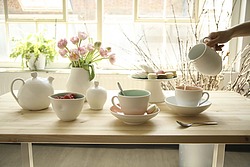 Linda Bloomfield makes thrown porcelain tableware in her West London studio. She trained as a scientist before fulfilling her dream to become a potter. She has sold her tableware ranges through Liberty and Harrods. She makes all her own glazes in jewel like colours which can not be obtained using commercial ceramic stains. She has recently designed a more affordable mass-produced range.
Linda Bloomfield's pots have a tactile satin matt glaze on the outside and colour on the inside. They come in simple, organic shapes, with dimples sometimes added instead of handles. The porcelain is fired to a high temperature and does not chip or crack. It is dishwasher and microwave safe.
As they are all individually handmade, items may vary slightly from those shown. Photographs by Henry Bloomfield and Jacqui Hurst.