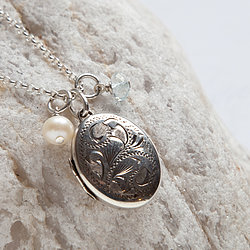 Lime Tree Design creates beautiful jewellery inspired by and using classic pieces and gives them a contemporary twist to make them completely wearable for now. - I am intrigued by lockets, both vintage ones and now my own range of lockets featuring our own designs. I love the idea that each piece whether it is an old one found at an antique fair or a new one is the ultimate personal jewellery and will carry someone's story and develop with them as they go through life. We can also engrave lockets to personalise them.
The materials I use are a mix of vintage and new, precious and semi-precious. By using vintage materials and teaming them with modern ones, I feel true to the make do and mend ethos and it means every item I produce is special and I love the idea of upcycling!
Lime Tree Design was started as a kitchen table company and now has grown to be a full time endeavour for our small team who work in our workshop and office in our rural Nottinghamshire village. Our focus is always to produce interesting products that take classic ideas and give them a modern twist.