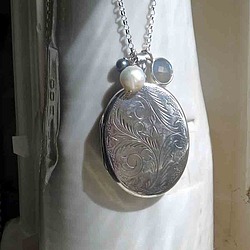 Lime Tree Design is a collection of original products that are either handmade by us or individual in design - ultimately it has to be something I love. I design and sell jewellery using vintage components to make contemporary pieces - I specialise in vintage lockets which I have developed a passion for and now have developed my own range of lockets based on a vintage shape and featuring our own designs. We can also engrave lockets to personalise them. We create vintage inspired jewellery using charms and semi precious stones. We also make lavender filled fish.
The materials I use are a mix of vintage and new; some designer fabrics and some more work-a-day: old jewellery and new components. By using vintage materials and teaming them with modern ones, I feel true to the make do and mend ethos and it means every item I produce is special and I love the idea of upcycling!
Lime Tree Design was started as a kitchen table company now has grown to be a full time endeavour for our small team who work in our studio and office in our rural Nottinghamshire village. Our focus is always to produce interesting products that take classic ideas and give them a modern twist.