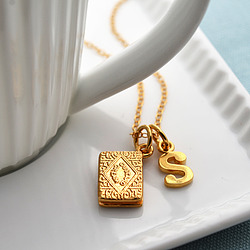 Lily Charmed was launched in 2011 with a simple desire to design and sell unique and affordable sterling silver charm jewellery with meaning as well as beauty.
Developed by Lucy Lee from her kitchen table along with her cousin Marcus, the business has continued to flourish and grow, and now offers a range of silver and gold plated quality charm jewellery that includes bracelets, earrings and cufflinks.
Our exclusive yet simple designs allow Lily Charmed jewellery to be worn and cherished every day, while for an added personal touch customers can choose between one of our pre-written sentiment cards or create their own.
When you wear Lily Charmed jewellery we want you to remember the person and the sentiment behind your gift.
We love to hear from our customers, and continue to develop and evolve our range based on our fantastic feedback so please contact us info@lilycharmed.com.
Lucy, Jon, Zoe and Natalie would love to hear from you.
In her previous life, Lucy has worked as a TV Director/Producer on shows such as "Sports Relief" and "Strictly Come Dancing". Now a fully-fledged "mum-preneur" Lucy's infectious passion for creativity and customer service shines through in Lily Charmed.