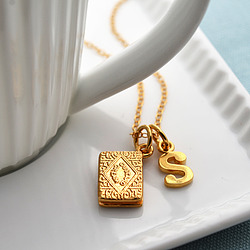 After a successful career in television production, including Strictly Come Dancing, Lily Charmed was launched in 2011 by Lucy Lee with aim of satisfying her passion for creativity and storytelling while providing a balance between work and a busy family life with two young children. (That was the ideas at least!). Now a fully-fledged mum-preneur Lily Charmed is just as demanding, yet as rewarding as either of her kids.
Based in her studio in Windsor, Lucy and her team design unique charm inspired jewellery that celebrate peoples own stories and relationships. Included in the range are both quirky and traditional charms that are complimented by Lily Charmed message card designs that reference life's everyday simple pleasures, from tea and biscuits to dreams and friendships. While the ability to add your own personal message card creates a truly unique gift.
Employing a combination of the best of modern technology including 3D printing to design and test new ideas and traditional methods of Lost-wax casting and hand finishing by expert silversmiths, Lily Charmed only uses quality 925 sterling silver, Gold plated sterling silver and 9 carat gold with semi-precious and precious gemstones.
Surrounded by talented family and friends, who all pool their creative talents to bring the best inspiration and design to the Lily Charmed business. Lucy's artist sister, Jessica, helps with charm jewellery design using pen and paper, a talented cousin Becky, designs Lily Charmed's message cards while husband Jon has recently joined forces with her to help nurture and grow Lily Charmed to further success.
At Lily Charmed, each unique design is carefully crafted from start to finish, right down to the hand tied ribbon that adorns each and every gift box, every piece is made with care and sparkle for you to enjoy and cherish.