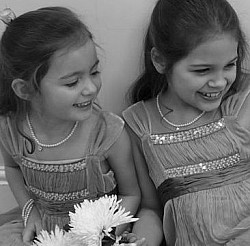 Lily Belle Junior jewellery is special. It tells wonderful stories. It celebrates love and happiness, and marks the most important moments in our lives.
Lily Belle's story started in 2006. Named after our gorgeous daughters, Lily Belle is a celebration of all the wonderful moments in our lives we share. It's about telling your story through beautiful pieces of personalised, handmade jewellery and accessories that will stay with you and the people you love forever.
Almost from birth, little girls are given jewellery to mark special moments and to celebrate landmark events in their lives.
Lily Belle Junior has created a delicate collection which will appeal to girls of all ages, and will be treasured for many years to come. Each item is sent to you beautifully packaged in signature white boxes, finished with hand tied pink ribbons and a delightful sentiment card.
® Mummy and Me is a registered trademark