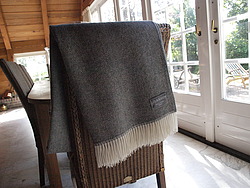 Our company was established as a consequence of my nephew's birth in 2008, when my brother & his wife were given a beautiful family heirloom – a pure wool blanket, which had kept my siblings and I cosy and warm in the 1970s but yet still looked brand new! Both my nephew, and later on my niece, loved it and they still snuggle under it in front of the television. After 2008 my brother began to look for wool blankets in the UK to give as gifts to friends who were new parents so they could also one day see their grandchildren use it, just as our mother could. To their astonishment, wool blankets were very difficult to find, as the current trend seemed to be for man-made fibres. They found that whenever they wrapped their babies in blankets made from man-made fibres they soon got sweaty and hot, whilst the wool blanket never seemed to cause this. They felt so passionate about bringing the wool baby blanket back into the home that they found a mill that still produced them and began their business, named after their children Dylan and Evie. As well as baby blankets they also expanded into throws & cushions for the home, summerhouse, car, garden or to take on outings/outdoor events, etc. and scarves were introduced to the range to add colour and style to outdoor wear.
I have now taken over the business so my brother can move onto pastures new & pursue another of his business ideas. I have renamed it Lily&Kirkby - family names originating from the 1800s (also the era that one of the mills started in business). Our ancestors actually lived in the Yorkshire town where one of the mills is located, so I have kept it very much still 'in the family'. The mills employ both traditional and modern techniques from start to finish to produce our collection from the finest wools; Shetland, lambswool, natural wool, merino or alpaca depending on the intended use. Our collection now includes baby blankets, throws, cushions, scarves, stoles and ruanas for you, your baby, your home, your garden, or your car. They also make great gifts for your friends and relatives and can be bought and used all the year round.
With love from
Lily&Kirkby
Please note:
We have made every effort to make the colours on screen as close as possible to the materials produced. We cannot guarantee an exact colour match as colours will vary depending on your screen settings and resolution.