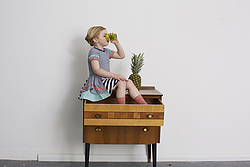 With each beautiful baby that came along ( our own, friends, family....) our belief strengthened that there was a gap in the babywear market for a range which would appeal to both the tradtional and contemporary customer. Products that would let children look like children and hold a timeless modernity with a unique twist...and so began the story of our own brand that was to become Lilly + Sid.
The primary focus of Lilly + Sid is quality and design. All products, prints and appliques are designed in the UK and produced in quality factories to ensure that every product is machine washable ( yes- even the toys!) and suitable from birth. The range includes clothing, toys, blankets and accessories and each piece is fully co-ordinated to offer endless gift combinations and outfit choices. The unique detailing within each piece is inherent to our brand and ensures individuality.......and above all- fun!
We are stocked in some of the worlds finest boutiques including Harrods and Harvey Nichols and have won lots of lovely awards, most recently the Junior Magazine Design Award and Loved by Parents Gold.