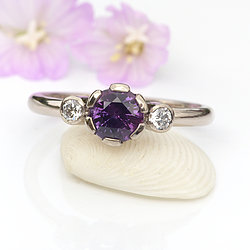 Lilia Nash is a unique collection of fine eco-friendly jewellery, inspired by nature.
Lilia specialises in bespoke engagement rings and wedding rings, as well as her Moon and Stars, Petals and Leaves collections. Lilia creates timeless pieces that combine natural and contemporary lines.
Each limited edition piece of jewellery is individually hand-crafted by Lilia herself, from her studio in the Cotswolds (UK). Having developed a passion for gemstones as a child but knowing the negative impact on the Earth's resources that mining brings, Lilia's mission is wherever possible to make her jewellery using recycled and ethical metals, conflict free diamonds and fair trade gemstones in order to try and reduce the amount of damage to the environment.
Lilia is constantly researching new techniques and trends in jewellery design to ensure her handmade pieces remain unique, stylish and effortlessly wearable.
Lilia is happy to create a unique piece of jewellery especially for you, matching your requirements and budget. Please do not hesitate to contact her.