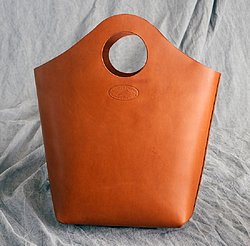 Lewesian Leathers, a small company set up at the beginning of 2013 in my home town of Lewes, East Sussex. We work from a workshop in the Cliffe area of the town, next to the ancient church of St Thomas a Becket.
Leather working had long been a passion, as well as designing and making costumes as a hobby. We decided to combine these interests and talents to create a locally based business that would produce high quality leather products - Lewesian Leathers was born.
After a period of prototyping and experimentation, we decided on a product range that includes tote bags, unisex satchels and messenger bags, briefcases and executive folios. We also produce a number of accessories including iPad and tablet cases, phone and business card cases. We also make dog accessories which at present are poop bag holders and collars.
Everything we do is by hand, from the creation of the product patterns, the cutting of the leather, the hand sewing of each product part to the final finishing of the product. Although this is a time consuming process, the quality of the final product is exceptional and is something that will last you for many years.
We actively try to support other UK businesses by sourcing our leather from UK suppliers and have set up good relationships with a number of these who provide leather of exceptional quality. We also wanted to make sure that all of the metal work we use on our products was of the highest quality so we sought out a UK based company who hand cast these in their own foundry.
Our long term aim is to grow organically with increased sales and an expanding product range.