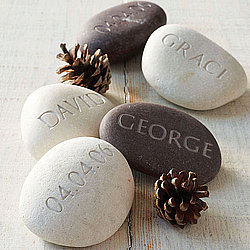 Letterfest Engraving is the creation of graphic designer, Wendy Harrison who lives and works in North Devon.
I have designed a range of gifts that are handmade to order, personalised with your details to make each one unique. The range includes pebble keepsakes inspired by the natural landscape of the North Devon beaches, wooden decorative pieces and personalised jewellery.
The pebbles we use are river pebbles, eroded smooth and flat from years on the river bed, sourced by a landscaping company in the South East. As a natural stone they differ in size, shape and colour and contain natural imperfections. We have taken a rough, organic product and left it in its natural state, engraving the type like a stamp in the stone. If you are inspired by any of our products but want something bespoke, please do contact us via the 'ask seller a question' tab on each product page.
Our range of art prints, illustrations and stationery can be found at our second shop LETTERFEST.
WINNER OF CREATIVE BUSINESS OF THE YEAR 2011.