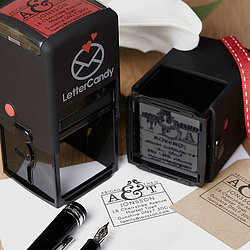 Welcome to the Letter Candy Notonthehighstreet.com shop.
I design and make personalised self-inking return address rubber stamps. I have a background in both retail products and graphic design. I have been able to bring together my product experience and my love of design to create an innovative range of personalised stamps that I hope you will love as much as I do!
Several years ago I was given a personalised address stamp as a gift from the US. I was so impressed by the stamp that I investigated whether these were available to buy for friends and family here in the UK. I soon realised that they didn't exist over here and so began the road to Letter Candy.
So far I have had amazing feedback. The stamps make trendy accessories on any desk and are fabulous as creative and thoughtful gifts for all ages. There are a wide variety of classic, contemporary and fun designs to choose from with something to suit every taste.
I am delighted to be selling through Notonthehighstreet.com and will be adding new and exciting designs every month.