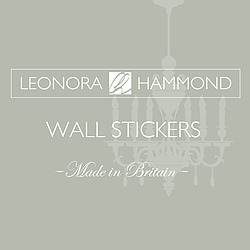 Leonora Hammond's flair for interior design was her motivation in setting up the company along with her desire to be individual in 2006. Based on the beautiful south coast of england Leonora works alongside her creative team continually striving to create individual designs to enhance your home. Wall stickers are an excellent way of jazzing up an empty wall for minimal cost.
What sets us apart from our competitors is our ability to custom make or 'tweek' our designs according to each customers needs. We are proud to say that all of our wall stickers are not mass produced and every wall sticker/decal is made to order by us. The beauty of this particular style of wall graphic is that once the wall stickers are applied they look like they have been 'hand painted' onto the walls rather than stuck on to the walls.
We strive for individuality and should you have any quotes or song lyrics you would like making into wall decals then please do get in touch.
All of our wall stickers are made from a premium quality matt self adhesive vinyl which when removed from the wall comes off easily and with little or no mess .* (Not to be confused with printed 'wall stickers' which are produced in a completly different way).
Most of our designs are available in a choice of 36 colours and some of our designs are available in sets. This is to enable you to create your own personal touch to your individual space. All design sizes are approximate and vary. All measurements are in mm. When purchasing please note as many of our wall stickers are made to order we would strongly recommend that you order a colour swatch before placing your order. This is service we provide free of charge as made to order items can not be refunded only exchanged. Please see our terms and conditions for more information.
Our range of Mini sticker packs are an excellent small affordable gift for children and allow our younger customers to experiement and express their own creativity. These mini packs come with two sheets of vinyl ready to cut out and stick. Regrettably these packs cannot be mixed colours in each bag, however if you wish to do this then purchasing two packs in different colours will allow you to do this.
By popular demand some of our most popular wall stickers are now available as prints. These can all be personalised if required, by adding a name or changing wording if necessary. Please do contact us if you have any questions.
As part of our bespoke service all designs can be made to measure and we can quote for each requirement.