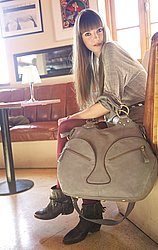 Leonie Saliba is an exciting brand established in 2005 at London's famous Markets. Leonie has a background in fashion and textile design and has always been interested in the creative side of life.
The boutique label has continued to flourish and grow in popularity and even celebrities such as Sophie Ellis Bextor have been seen wearing her designs. Leonie's collections are always made in the highest of quality, featuring innovative designs with imaginative detailing. A passion for natural materials, colour and craft became the inspiring force behind Leonie's designs.
This is an exciting and fun range of designer leather accessories and beautiful jewellery. Leonie offers her customers something unique, with butter-soft leathers and striking embellishments - you are sure to have an accessory that will set you apart from the crowds for years to come!
Leonie hand makes all her jewellery in her London studio. She uses only the best chains and semi precious stones and charms so you know you will be getting something of value and quality.