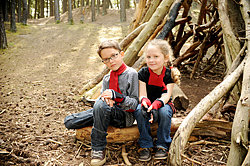 León+Coco stand for inspirational and educational children's products designed and produced ethically in the UK and Europe. We make children's products with heart and soul.
We aim to inspire children to use their own imagination and encourage them to help shape their environment. We believe that it is important to give children not just a product, but something to do, something to find, something to see and something to change.
We don´t want to dictate a use, but give choice and communicate important values in a fun way that helps them to grow their ideas and to take part in the world surrounding them.
We want to create things suited to the way they move, discover and question things. Our aim is to give children something really challenging and encouraging that defies the throw-away society.
It is important to us to have everything made from ethical and natural products and locally - as much as possible.