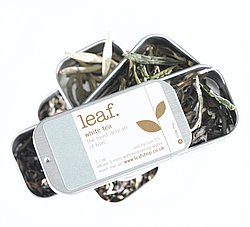 "impressive range" Observer Food monthly
Set up in 2005 as a small independent business, Leaf is an invitation to discover the satisfaction and simplicity of good quality teas and infusions and the perfect place to get started with leaf teas (leave dusty teabags behind you!)
All Leaf's products are carefully chosen, great tasting and visually stunning, available in simple resealable kraft bags. Most important of all they are 100% NATURAL, that's Leaf's promise.
After time spent in the food and drinks industry, including the tea sector, Leaf's founder simply had enough of the industrialization and uniformization of products, and wanted to do her bit against this wave. Leaf is the result!
Leaf also sells everything that makes tea time so enjoyable with great tea accessories (even baking utensils for the perfect afternoon tea!), with an emphasis where possible on items made by hand or close to home (including mugs made in England).
Leaf's founder also has a lifestyle shop and is proudly presenting a few key products on notonthehighstreet.