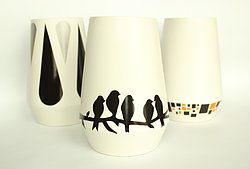 Welcome to my shop of handmade functional ceramics. I have a range of delicate slip cast ceramics made from high fired earthenware and porcelain.
After graduating from Staffordshire University (the heart of the potteries) I returned to Reading, UK to set up my ceramics studio. Since 2005 I have been mould making and slip casting ceramics for people all over the world to enjoy. I love simple clean lines, texture and fine finishes.
Based on my designs, I first make an original in plaster from which I hand make a plaster mould, this is a highly skilled process! The earthenware pieces are then cast in these moulds for approximately six to nine minutes giving them the light delicate quality which makes them so original. During the subsequent hand finishing I consider how to give each piece of work its individuality, be it with slip, glaze, holes, resin or decals to add subtle changes or distinguishing features, so that each item may stand apart but retain the original design concept.
If you would like something you see here in a different colour or style please contact me.