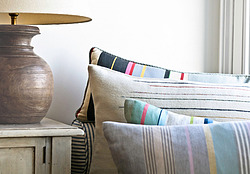 Hello and welcome to my shop! I am very pleased to introduce my collection of luxury hand-made cushions and home accessories, designed and woven in Suffolk.
My designs feature striking stripes woven in linen, wool and cotton to create different textures and colours, to bring a feeling a calmness and joy into the contemporary home.
It is my aim to build a unique and truly English brand which supports sustainable and ethical business, so the materials and techniques I use to make my products are carefully considered. All of my products are made by hand to the highest possible standard, and everything is produced in the U.K.
Thank you for visiting, Happy shopping!