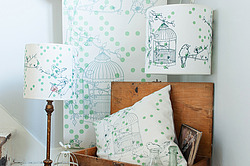 Laura Felicity Design is an independent business based in North London specialising in luxury and design.
Laura's experience in screen printing and hand drawn illustrative patterns are combined to create high quality wallpaper, lampshades, cushions and gifts for the home.
Laura's main sources of inspiration for her pattern designs are discovered out walking; from her keen eye for nature whilst with her two dogs Bailey and Millie, to being influenced on day trips around London and the UK.
These visual inspirations are hand drawn into patterns and layers forming natural and unique designs for her wallpaper, cushion, lampshade and gift collections. Laura's aim is always to design a product that has an atmosphere of freshness and depth, inviting people into the pattern.
Laura's colour palette is kept light and classic, combining complimenting colourways to make each pattern subtle yet intriguing.
All product materials are sourced within Britain and the collection is completely hand drawn, handmade and silk screen printed within the UK. Laura Felicity Design wants to bring a sense of the traditional, handcrafted, high quality era of British industry to all products.