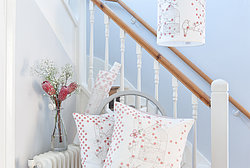 Welcome to the world of Laura Felicity Design.
Laura designs high-end, British wallpaper and interior products; cushions, lampshades and ceiling shades in her London studio. Creating designer interiors for you and your home.
Laura Felicity Design's unique British wallpaper and interior products are inspired by her everyday life; from long walks in the picturesque and calming English Countryside, to exploring the hustle and bustle within London Town.
Each pattern invites you to see the world through Laura Felicity Design's eyes. Being constantly influenced by her surroundings, she designs illustrations for interior products to be able share these experiences with you.
Plus, to help you create your ideal interior space; a place you can relax, unwind and feel at home, whilst admiring the beautiful side of life.
'I love nothing more than seeing my products being sent to wonderful new homes. It's why I started my interior business.
I'm happy knowing the designs I create can have a loving home to make someone smile. It's a great feeling.'
To create your own personal home style, try mix and matching Laura's interior designs and colour options, creating modern character in each room.
Happy Shopping!