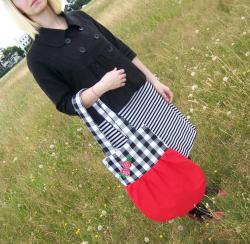 Laurafallulah is Laura Harris, a weaving graduate who, after a lightbulb moment, knew she had to swap her life in retail for setting up her own business making the most of her creativity and promoting that of others. Working from her home in South East London, Laura takes inspiration from her surroundings. Her love of vintage design combined with an eye for bold colours and stylised motifs help her create fun individual accessories for the young at heart. A proper grown-up treat.
She dreams of living by the sea in a large house with a small vegetable patch running her own handmade gift shop.
Every laurafallulah item is handmade and handstitched so may differ ever so slightly from the photograph.