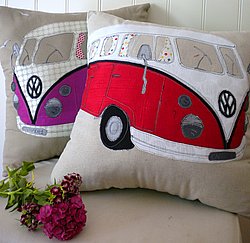 'Quirky Britain' inspires my work. Tea trays, cup cakes, china cups and tea pots; the seaside with stripy deck chairs and children playing; British bloomers hanging out to dry; rows of Victorian terraced houses with chintzy curtains and different coloured front doors.
Everyday things we see all the time, captured on a cushion. I love the playfulness of using different fabrics together. A gingham with a floral or a stripe against pink floral. The possibilities are endless in the mixing of patterns.
The embroidery is hand guided and I use the sewing machine like a pencil to sketch over the hand cut stencils, adding detailing which brings the image to life. My aim is to make people smile by creating fun one-off textiles that are not behind glass in a frame. They are tactile and functional. Pieces to be enjoyed.
I also run one day embroidery workshops where students leave with a completed cushion, peg bag or picture.