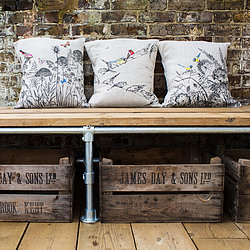 'Quirky Britain' inspires my work and 'drawing with the needle' is my passion!
Working from my home studio, in a little village by the sea, I produce unusual products for the home making cushions and lampshades.
Everyday things we see all the time, captured on a cushion or illumintated through a lampshade. I also run fun, creative workshops where people come and can make their own
My designs are all drawn by me which I then embroider in great detail. When I am happy with the main image, it is then transferred to a screen, which is then hand screen printed onto linens. I then cut by hand, small fabric pieces to add shots of colour, which are then, embroidered down. This also makes each one slightly different and unique to you.
Some of my designs are completely embroidered in numerous coloured threads so they are like a piece of 'stitched art.' These are little one -offs that are completely unique for your home!
My products are all hand-made from home with quality fabrics, time and attention to detail. I hope you enjoy my work.
If you have any special requests, about an order, I will do my very best to accommodate them.
Thank you for looking!