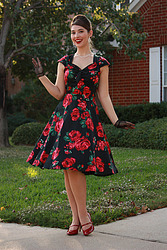 Lady V London was born with a vision to create fantastic classic dress designs at affordable prices. We believe in providing customers with stunning dresses in classic designs - with original and highly desirable prints, and above all, fantastic quality.
All dresses are designed in house at Lady V London. From June 2013 we now make all Lady Vintage dresses in the heart of London. We strongly believe in supporting British Businesses and British Workers. We are proud that our dresses will be made in the UK's capital and proud that we are able to provide work for many people in our country, supporting our economy, especially in these difficult times.
We sell a selection of vintage reproduction dresses in a variety of styles: Audrey Hepburn style dresses, swing dresses, wiggle dresses, tea dresses and day dresses. We stock a number of dresses in a size range of UK8-32, catering for all sizes of the modern woman.